From a little stomp box on the ground to multi-channel production stations, looping has become a crucial part of a many musician's toolboxes. Several artists in the Hanoi music community, including myself, are using looping to expand their sound and create whole, layered soundscapes, needing only one or two musicians on stage. It of course also creates a bunch of new sounds for the ear to explore.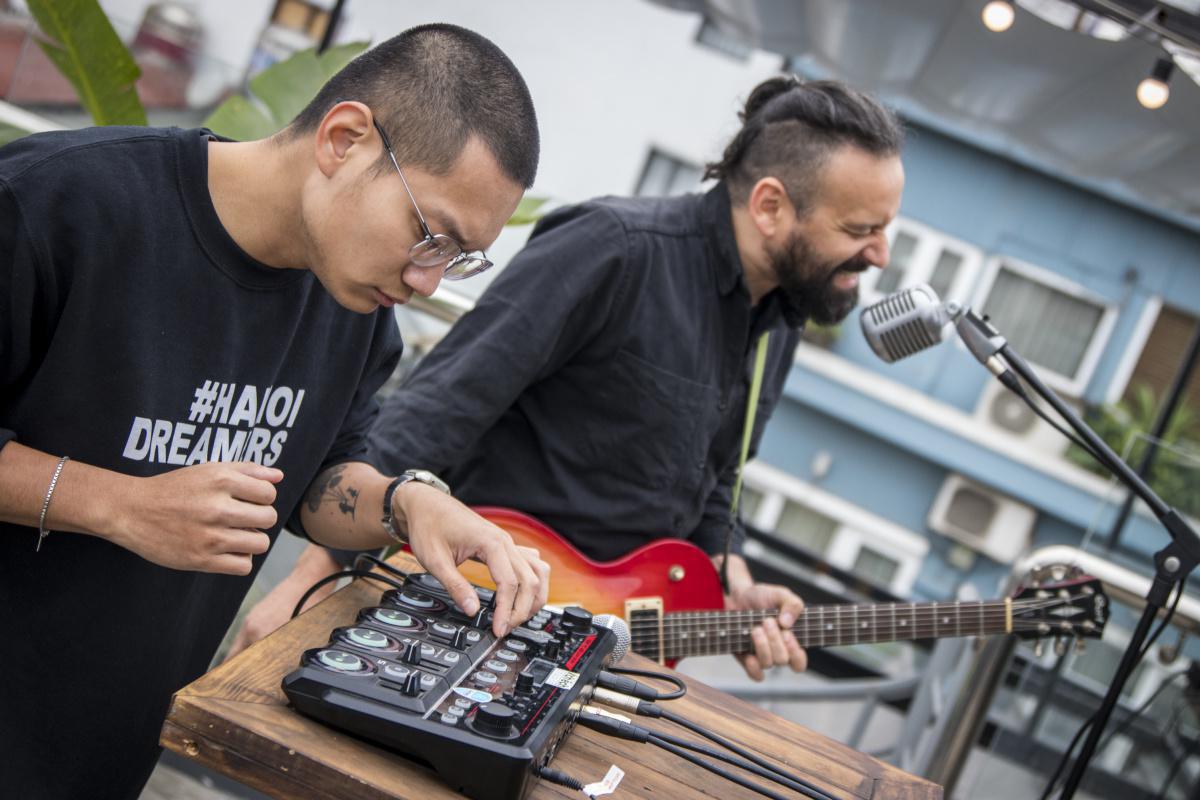 What's the basic concept? Push a button to start recording, then push it again to immediately start playing it back on a loop. Depending on the equipment more layers and effects can be added. The musical ingenuity of Hanoi's very own duo, Tiny Giant, is captivating and a prime example of the power of masterful looping for live performance.
Another two-piece Hanoi-based group, LOOPERNATURAL, uses them to near perfection. Working in sync they create driving electronic music with only their mouths and the machines.
As high-tech as some of the gear today seems, you can trace looping back quite a ways. The first use of loops was in the late 40s, using gramophone recordings.
Things start to pick up with tape recordings. Here's an old gem of Les Paul and Mary Ford essentially looping and overdubbing using tape. This was 1953 on the TV show Omnibus.
This process was born when artists and producers started cutting the tape film with scissors and taping small bits into loops (hence the name) that would play back over and over again. In 1966 for the song Tomorrow Never Knows. The Beatles and George Martin recorded a handful of loops, manipulated them (for example changing the speed), and played back the live instrument recording while bringing different loops in and out. You can hear each individual loop on its own here.
Hip hop pioneer Grandmaster Flash, starting in the late 1970s, used two turntables to make break-beat loops. Slicing out drum breaks, fills, and intros, looping was brought to another level. Here he shows you how it's done (also included: one of the most awkward intros of 1983).
Flash forward to 2020 -- musicians have multitudes of software and hardware options to loop and play back music.
When I first arrived in Hanoi, I remember hearing and being moved by music scene staple On Ni singing in an acoustic duo. Now she often works solo, using nothing but a loop machine and her voice to create full, lush tracks. It opens the door for her to create drums, bass lines and textures, laying the foundation for her to pour melodies and words over. You can check out the looping on her page.
For myself, I'd only used the looper as a practice and writing tool until forming TOVA last year. My bandmate Tabitha and I were coming to the end of our four-piece rock band, as other member's lives took them to new places. We wanted a new kind of sound, more ambient and bigger then the one we could make with two guitars. Looping has become a cornerstone of our live set.
Our time is one of many powerful creative tools and the possibilities are endless.
​
---
Article by Ian Campbell, Hanoi