DiscovrTV recorded a wonderful song with Lauren Kirby. Lauren is no stranger to the Hanoi music scene and only recently started performing as a solo artist. We are very excited to have discovered her staring to perform on her own. We are even more excited to follow her journey as an artist. She has a wonderful voice and writes songs that capture one. We asked Lauren a few questions about herself, her music and her inspirations. Here is what she had to say.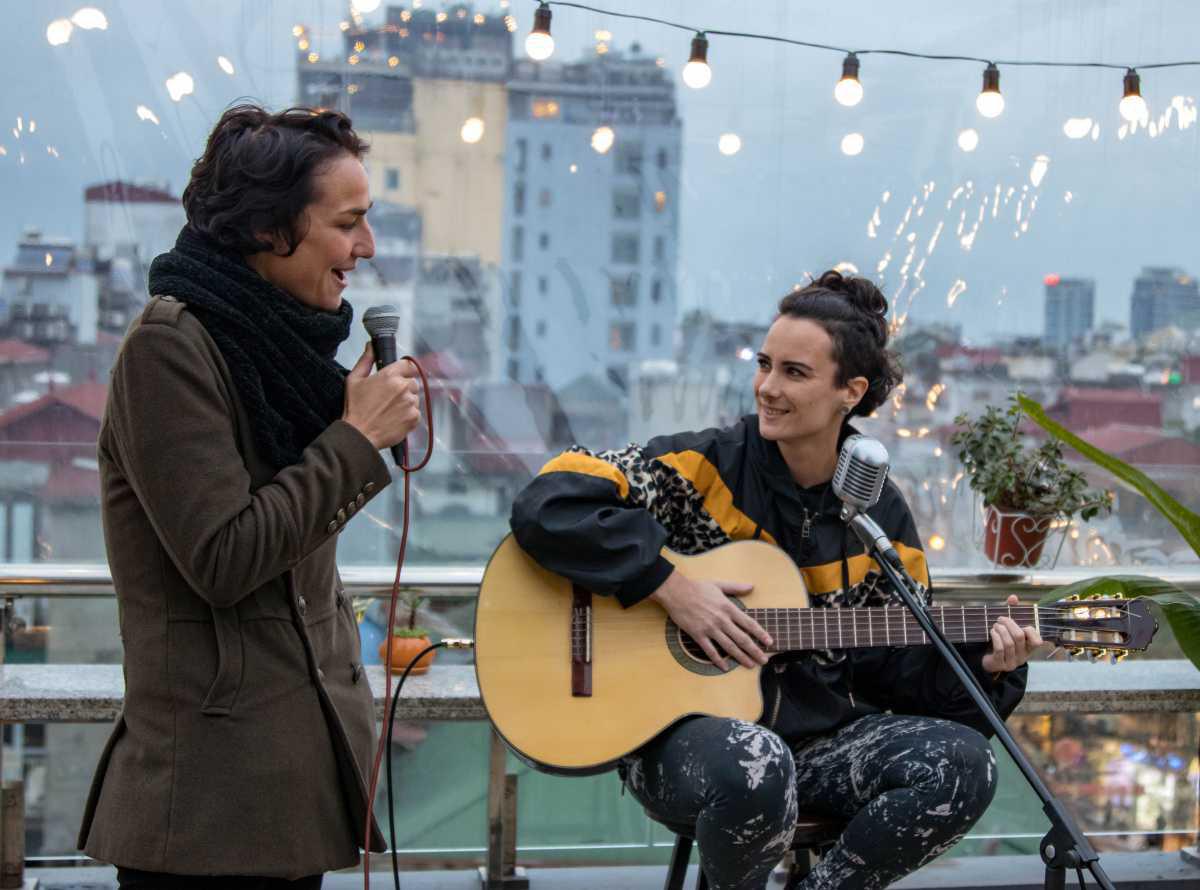 "For me success means pushing yourself outside of your comfort zone and connecting with people through music. It is frightening but thrilling to now be starting to do that on my own."
Lauren, you have just decided to start a solo career, can you tell me how and when did your relationship with music begin?
It took me a few bands and mini projects before I realized this was something I wanted to do, and I could do on my own. I've always been interested in music and performing but haven't always had the confidence to do so without the safety net of others on stage with me.
You have performed a new single 'Louis' song' for us. What is the story behind the song?
The song started out as a tribute to a friend of mine who recently passed away. It turned out to be as much for me as it was for them. I was struggling to come to terms with what had happened and turning emotion into music was a way for me to start to deal with what was happening and really helped me to process some of those negative feelings in a non-destructive way.
This is a question we love to ask most of the artists that record with us, it's about your writing. Is it stream of consciousness type writing or more planned and thought out? Is there an underlining theme in your music?
I find I have to be thinking about something or going through something in order to write about it. It can be quite frustrating at times as it's difficult for me to sit down and write a song unless I have something on my mind. I do value this writing style though, as I feel it makes my lyrics and the overall feel of the song more believable. I guess the theme is real life and the events, politics and people around me are what influence me.
Where do you write and how do place and time influence you and your writing process?
It was a really difficult song to write and it took me a while to finish it; the lyrics didn't come easy and I wrote them over a couple of months. I decided to leave the city for a few days in order to finish the song. It sounds cheesy but because the song is so emotionally charged it was important to me to be somewhere calm and quiet to finish it. I ended up writing the last bit on a beach next to the sea.
Do you listen or watch anything in particular during the recording and writing process and does it influence your writing?
I actually stopped listening to music during this time and I can't remember what I was watching. Everything was kind of just background noise for a while.
If you could hope that your music inspires someone to do something, what would that be?
To be unapologetically authentic, always.
Tell us more about your musical influences? Are you hoping to achieve a certain sound or theme on your new release?
There are so many bands and artists that have influenced and continue to influence me, I am a lover of music. I tend to focus more on how a song makes me feel rather than how it sounds. So as long as my music evokes emotion in people, that is all I hope to achieve.
Tell us a bit more about you and your successes as an artist?
At eighteen I was in a bass player and singer in a punk band for two years, we played gigs up and down the UK and supported bands such as The Subhumans and Discharge which was cool as I never imagined playing with bands that I grew up listening to in my bedroom. I moved to Hanoi and started a two piece project with a friend, them on guitar and singing and me playing ukulele and singing at open mic nights. I later joined an African band as a singer which was entirely new for me as I had practically zero experience of this music genre. For me success means pushing yourself outside of your comfort zone and connecting with people through music. It is frightening but thrilling to now be starting to do that on my own.
And last questions about you outside of music? Anything else we should know about you?
I love animals and have three pet rats, whom I adore.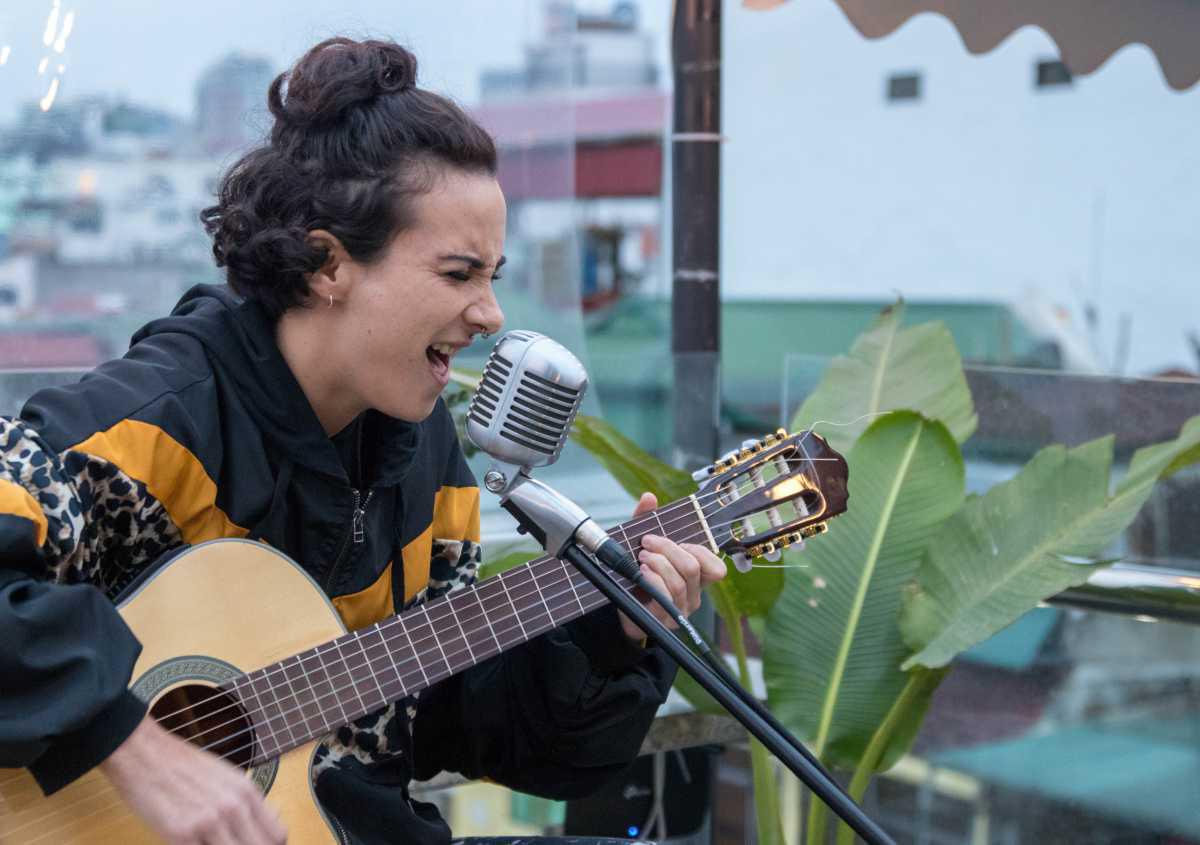 ---
Artist: Lauren Kirby
Song: Louis' song
Venue: Northern Soul Rooftop Bar
Presenter: Madele Vermaak
Camera: Gaz Weir
Sound recording: Tabitha Perez & Ian Campbell
Sound Master: Zab Spencer
Photographer: Victoria Siwik
Producer: Kobus Kotze