We reflect on different kinds of borders, may they be physical or psychological. We want to play with these borders, find a way to make the audience part of the performance and change the classical stage-audience setting.
Marie: Tell me more about how did you start out as a band - how and when did it begin?
Alexandra: We all three studied quite some time ago classical music in Zürich. The common interest of looking across the boarders of classical music is what brought us together. With another four students we formed our first band, following our passion for balkan rhythms and tunes. After completing our studies, the three of us decided to continue working together, with a stronger focus on the combination of music with theatre.
Marie: Tell me more about your music style?
Alexandra: We started playing traditional folk music from the balkans and across the world, modifying them for our three instruments and voices. More and more the tunes were used merely as an inspiration. We take the scale, text, rhythm from a song, improvise on it and add free improvisation parts, creating our own version of the song. It's not easy to label our music, cause it can vary quite a bit, so we find the term experimental folk the most suitable.
Marie: Tell me a little more about the writing process, is it individual or a group effort?
Alexandra: As described before, the process of writing begins with improvisation. One of us brings an idea and we start experimenting with it. At the moment though, we try a new approach for composing since Alexandra is away traveling for 10 months. We are all independently writing and composing music for our new project. We are focusing more on finding our own style, still with influence of folk music from different countries. After this break we will come together and bring our different ideas into one.
Marie: What are your current projects?
Alexandra: We are in the planing and composing face of our new project called "Grenzen" (boarders), where we reflect on different kind of boarders, may they be physical or psychological. We want to play with this boarders, find a way to make the audience part of the performance and change the classical stage-audience setting. Of course, music concerts for different occasions keep us busy too.
Marie: How does this reflect in the way you combine music and performance?
Alexandra: Since we are all interested in combining music with other expressions of art, like theatre, we usually embed our music in a performance. We pick a topic of common interest and start looking for music that fits this topic. It is the ideal way to open the borders of only one discipline and create a complete piece. We usually work with a director, with an expertise in theatre, who helps us with his professional look from the outside.
Marie: Are you hoping to inspire with your music and what do you wish for that inspiration be?
Alexandra: To hear and see that the audience is moved by our music and starts reflecting on the topic of the performance means a lot to us. We wish that our music can open up something new to the people, wake something forgotten or put away. We hope that our audience starts dreaming and feels a sense of freedom.
Marie: Tell me more about you and your successes as a band?
Alexandra: Since we finished our studies we did three scenic projects, including a music theatre for children. We toured with these projects in Switzerland and Germany. Parallel we played many concerts in cafes, restaurants, public and private events.
Marie: What are your hobbies/interests outside of music? Anything else I should know about you?
Alexandra: As we work closely together for many years and at the same time are good friends our band feels a bit like a relationship or "ménage à trois" ;-). It is a constant learning from each other, getting to know each other better, reflecting and accepting. Our rehearsals are combined with long coffee breaks, walks, good food, fooling around, movies, discussions over beers, etc.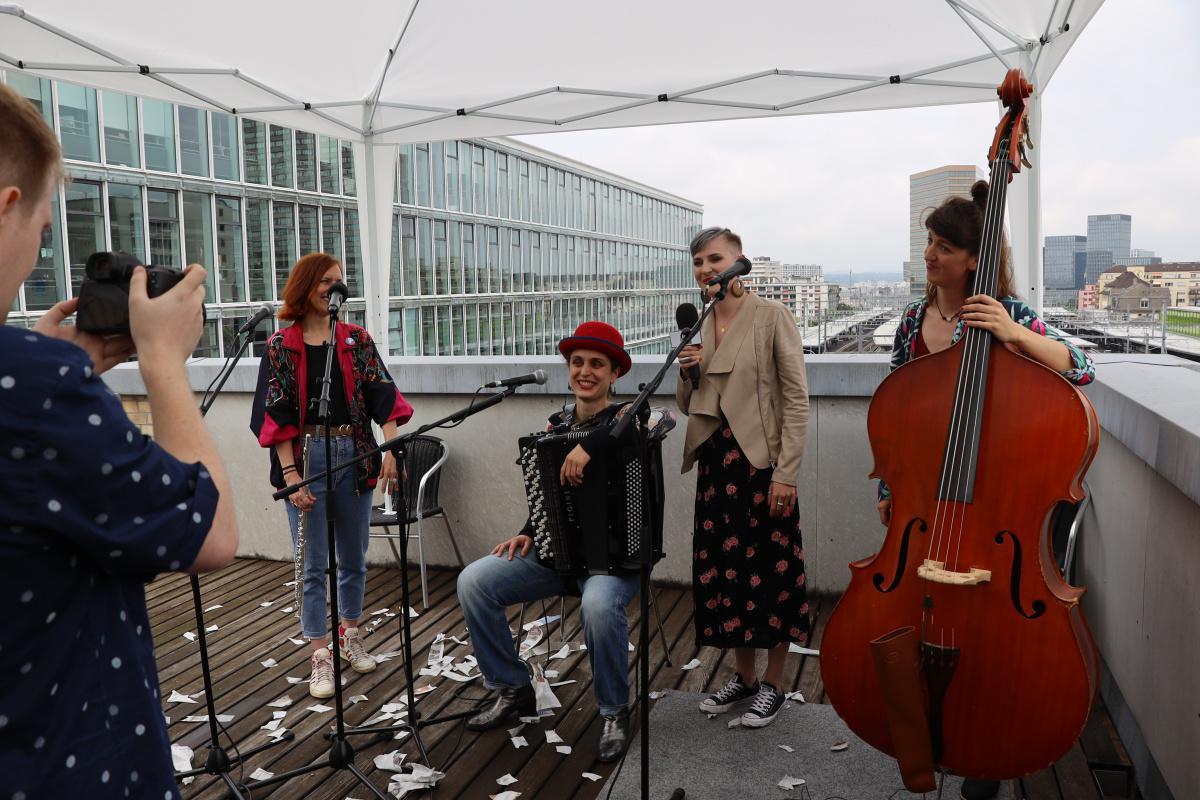 All photos in article by Sebastian Claus
---
Balladin is a Swiss female trio which plays experimental folk from many cultural areas. By combining voices, flute, accordion and doublebass they create their own folk style. Balladin performs in various places such as theatre stages, alternative festivals and cosy cafés. Besides the release tour of their new album "You know what I mean?" they do concert-performances involving scenic components. Their latest program "Restless women" is dedicated to female musicians in folk music. Their song played at DiscovrTV tells about a Rembetiko singer who decides to do whatever she likes to. The song ends up in Swiss german words, an authentic statement out of the three musicians lives.
//
Im improvisativen Zusammenspiel erarbeitet das Trio Balladin eigenwillige Arrangements. Ein verspielter, experimenteller Umgang mit dem Folk steht im Zentrum. Die jungen Musikerinnen heizen mit Flöten-Beatboxsounds ein, die Klangpalette des russischen Akkordeons geht unter die Haut und den Kontrabass erlebt man in atemberaubenden, von tief bis hoch führenden Lines. Ihren mehrstimmigen Satz singt das Trio auch mal accapella.
Alexandra Fülscher (Querflöte, Stimme, Beatbox)
Magdalena Irmann (Akkordeon, Stimme, Perkussion)
Sabrina Merz (Kontrabass, Stimme, Perkussion)