Recently, DiscovrTV recorded the singer songwriter Mac Mai Suong in Hanoi, Vietnam. We asked her a few questions about her passion for music, her songwriting process and the song she performed. We hope you like it!
DiscovrTV: How did you start out as an artist - where did it begin?
Mac Mai Suong: I've been singing forever, since I could start making sounds as a baby. Somehow, I always knew my life would be tangled up in music. At first, I was a bit wary and just kept it as a hobby. During high school, I got really into cinema. So after I graduated, I did a year of Film Studies, but music got the best of me. Nam (the founder of a music collective here in Hanoi called HUB) and I started collaborating in 2014. I was mainly the vocalist for songs that he wrote.
I had always dreamed of performing on my own and playing an instrument. Playing with a band feels great, but playing on your own is a wholesome experience for the self. One can feel every single vibration coming out from within you. It's hard to explain, but it's a cool experience.
DiscovrTV: What is your single, Như Là, inspired by? What is the story behind it?
Mac Mai Suong: My single, Như Là, is inspired by an article I accidently stumbled upon. I wasn't really in a happy place back then and saw this article called "10 ways to be Happy". It seemed kind of ridiculous, and possibly generic, but I still decided to read it.
A particular sentence hooked me; it stated, Just fake it. I decided to analyze what that meant to me, and put it into my personal perspective. I ended up writing the song in Vietnamese. It goes, Em sẽ vờ như hạnh phúc đang đến gần hơn bên em, which translates to, I'll pretend that happiness is getting closer.
DiscovrTV: Tell me about your writing process. Is it stream-of-consciousness, or more planned and thought-out? Is there an underlining theme in your music?
Mac Mai Suong: I'd say it's a bit of both. I chose the melodic and lyrical theme first, in this case. I wanted the song to feel uplifting, and I wanted it to exert a good energy--but not in the sense of it being dance-y or vibey. That's why I settled on a rhythm similar to that of a waltz. The Vietnamese language has 6 tones which you can pick up in the melodic line. This is the first chorus of the song: Và em sẽ cất lời hát như em chưa bao giờ vụn vỡ, em sẽ vờ như hạnh phúc đang đến gần hơn bên em. The chord progression follows it based on the lyrics and its melodic feel.
The song as a whole is about being grateful and looking at the things that we do have. Often times, we tend to suffer for wanting things that are not in our control. If there's one word for the underlying theme in my music, I'd say it's storytelling.
DiscovrTV: Where was this song written? How did the place and time influence your writing process?
Mac Mai Suong: This one was written in my bedroom. I can pretty much make up melodies and lyrics anywhere, but it works best when I'm completely alone or when it feels like I'm alone. Sometimes it happens in a crowd, or when there's some background noise. I come up with lots of ideas while I'm driving and when I'm listening to my surroundings.
I noticed that I usually start a song at night, but I need the light of day to finish it. I need to have clarity and intention in my work process, and for me that comes in the day time.
DiscovrTV: Do you think there is a perfect time and place to listen to the song, does it lend itself to a particular listening experience?
Mac Mai Suong: I'm not sure, it works differently depending on the context that you find yourself in. Why don't you listen for yourself and let me know?
DiscovrTV: I like that answer. Is there any specific way you would like your music to inspire people?
Mac Mai Suong: I hope that by listening to my music and my voice, you'll find comfort, light-heartedness, and faith in life.
DiscovrTV: What are your musical influences? Are you hoping to achieve a certain sound or theme on your new release?
Mac Mai Suong: I like a wide range of genres, but I'd probably say jazz, soul and classical music are my main influences. For the moment I'm still experimenting with different genres and styles, whichever sound or genre fits the song best. I follow what the song tells me.
DiscovrTV: Could you share some of your personal successes on your artistic journey?
Mac Mai Suong: After 6 years, though I've done gigs on both small and big stages, I think my proudest achievements would be having my first original songs, and not being too afraid to expose myself onstage like I was before. Contrary to what people may think when they meet me, I am quite shy and introverted.
DiscovrTV: What are your hobbies/interests outside of music?
Mac Mai Suong: I love dancing, I've tried hip-hop, house, ballet, and things in between… but life's been crazy the past 2 years. I haven't found the time recently. I'm into playing billiards these days. I play once a week or so. I'm not really that good yet, but it makes my brain work in a different way. It's interesting.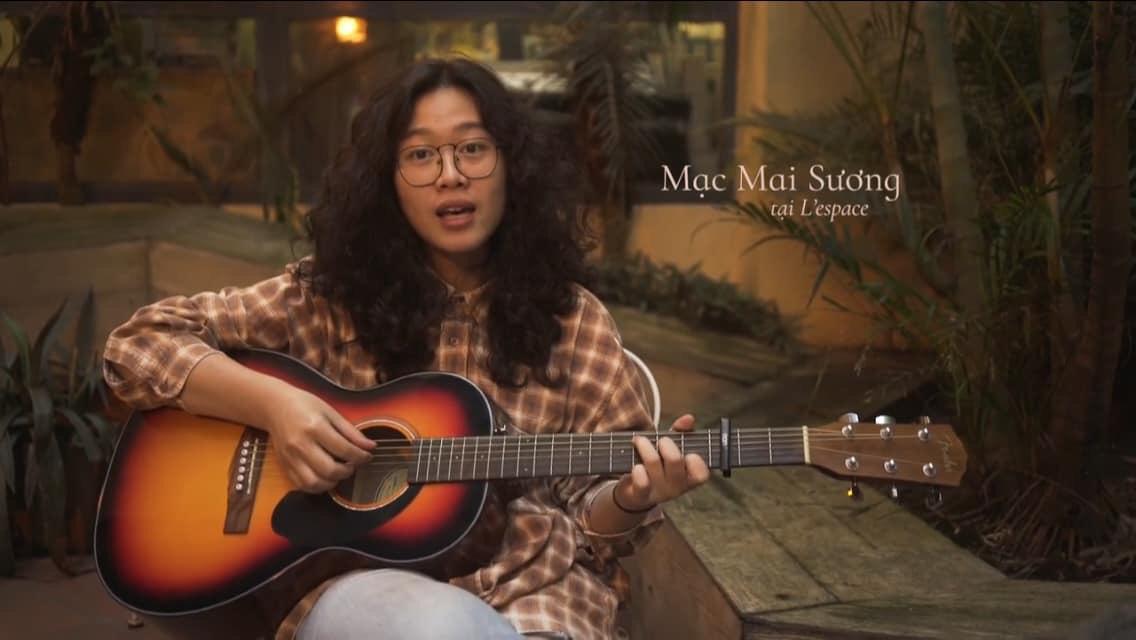 * Facebook page: facebook.com/blaaoi
* Instagram: @blaaoi
* Youtube: Mac Mai Suong
* Soundcloud: soundcloud.com/blaaoi
Artist: Suong
Song name: Nhu La
Producer: Kobus Kotze
Presenter: Marina Briggs
Camera: Gaz Weir
Sound: Ian Campbell & Tabitha Perez
Photography: Victoria Siwik
Venue: Northern Soul Rooftop Bar