"The DIY musician has more tools at their fingertips than ever before, and that's really exciting. The energy from performing live provides a lot of clarity, and leads us to ideas that we won't have had otherwise."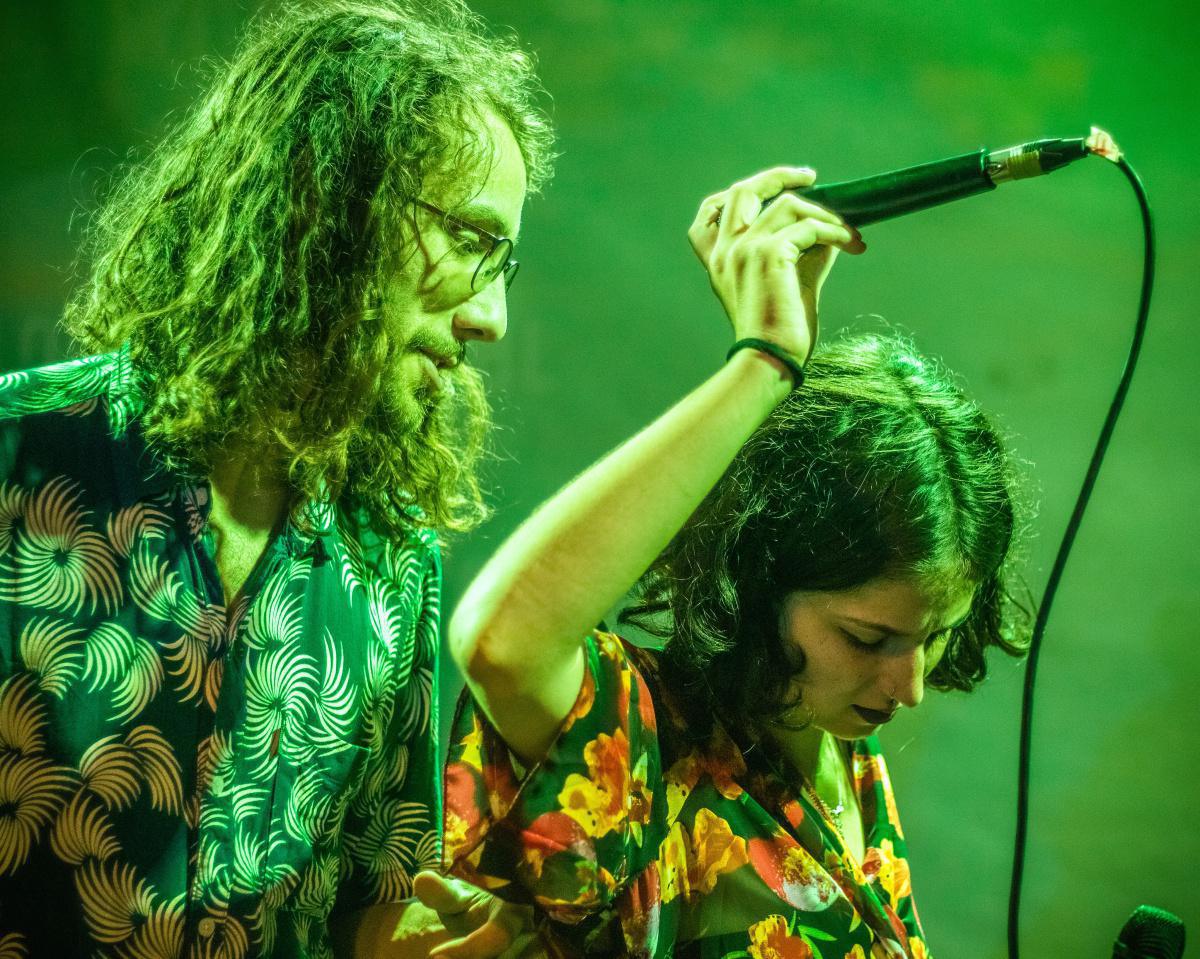 Hanoi, Vietnam seems like a strange place for a very active, growing and creative music scene. Or does it? Hanoi, in many ways is a multi-cultural city with people all over the world. It boasts some amazing live music venues and several bands consist of people from just as many countries as band members. This of course suggests a wide variety of music styles, stories and type of artists, some of them more unique than other. TOVA qualifies as the latter and they have a good story to tell. One that almost feels like a coming-of-age movie at times and one that keeps evolving, very much like their does.
TOVA is two-piece act, consisting of Tabitha and Ian. They both grew up as theater kids in different places in the United States. Of course, as with most theatre kids and aspiring artists, the need to wander and to explore soon started growing into something bigger than just a daydream for both of them.
Ian, then in his early twenties, moved to California and began writing and recording music, playing house shows and DIY festivals in the woods. It felt good. At times things were tough, both financially and emotionally, but it didn't matter. He loved the fact that a life like this could still be lived and that a musician can function without the constraints of more traditional societal structures.
During the same time, as most serendipitous things work, Tabitha also started falling in love with song writing and yes, the idea of travelling somewhere to pursue this dream also became a definite for her. She decided to move to Los Angeles. As a classically trained artist she pursued a career as a recording artist. Do we need to mention that she also enjoyed the possibility of making a living outside of an office block or other more traditional sphere in the world?
Tabitha and Ian met each other in the spring of 2017. Not just did they musically seem to speak to each other, they also shared the same ideological idea of undertaking a musical journey forged in minimalism. The two of them started living on the road with nothing but a camper van, an acoustic guitar, and their voices. They also started falling more in love and, as things happen with love, the world seemed to open up as a big place with lots of exploring to do and lots of chances to take. The couple was ready for some serious changes.
They decided to leave the US and began traveling the world. Some places seemed to stick and they found themselves increasingly in the surprisingly artistic city of Hanoi, Vietnam. Here they involved themselves in a few different musical projects. The idea of being minimalistic and self-sustaining as artists still exited them and still felt relevant, therefore they started delving into sound engineering and music production as well. Several of Hanoi's local artists and poets frequent their house, called 'The Castle' to rehearse and perform music in.
In the summer of 2018, TOVA was born. Vietnam is well-known to be a very hospitable country and backpacking musicians are to be found all over. Some in the big cities, some in the mountains and a lot of them on the road; constantly seeking out new places to perform and new people to collaborate with. Ian and Tabitha travelled from Ho Chi Min City in the south, and made their way north all the way to Hanoi, which they now call a home. They have a dog here, a few residencies at local live music venues and play very active role in the local music scene.
Tabitha says, "It's a melting pot, and the difference in culture provides a fascinating contrast for creative inspiration. Not to mention it is a warm, welcoming, inspiring community of musicians."
So far, the pair has played gigs in the US, Colombia, Vietnam, and Thailand.
One of the most memorable shows for them was a small music festival on the island of Cat Ba, off the coast of northern Vietnam. "We had fire dancers perform with us, and it brought a whole new element to our show. It's not exactly possible to have fire performances when you play in an indoor live music venue, so it was definitely fulfilling for us to be able to incorporate more art forms in a TOVA show. We hope for more opportunities to create a more immersive experience."
The central theme of TOVA's music has a lot to do with fears and hopes about the future of our planet. They seek to explore the spectrum of human psychology and how it relates to the world around us.
As mentioned before, TOVA spend a lot of time in their music studio, exploring and practicing several different instruments. The songs come about in many different ways, it can start out with a synth sound, guitar tone, melody, or a concept. Through jamming on it and fleshing out ideas, it grows and becomes a song. Often times, they perform unfinished songs live at their usual gigging spots, improvising and experimenting with different elements.
To the members of TOVA, being an independent musician means having freedom from needing to fit into a certain genre, and freedom from the rules and suggestions that often get projected onto musicians from music labels. "The DIY musician has more tools at their fingertips than ever before, and that's really exciting. The energy from performing live provides a lot of clarity, and leads us to ideas that we won't have had otherwise."
In 2020, TOVA plan to release their debut EP, a music video, and go on tour. As they currently work on their debut release, you can listen at a couple of songs on DiscovrTV Hanoi. Stay updated on their Facebook page (@tovatunes) and Instagram (@tovamusic) for more to come.
As mentioned in the heading, TOVA chooses to walk a road less taken but a road that leads to creativity and constant change.
Kobus Kotze, Hanoi